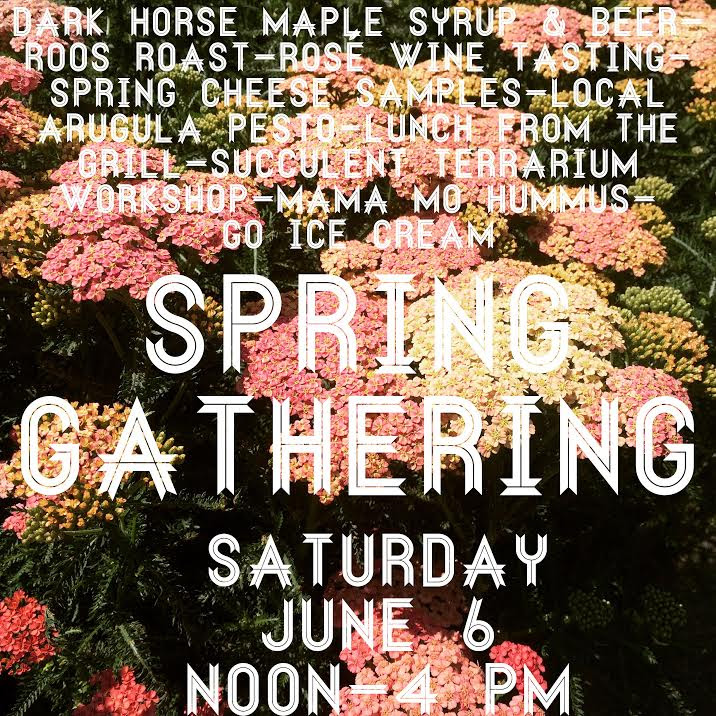 The Produce Station Weekly Market Update
Friday June 5, 2015

Join us this Saturday, June 6th from noon – 4 p.m. for our Spring Gathering!

We'll kick off BBQ season by firing up the grill and serving our house-made sausages, choose from our Oberon Beer Brat or Italian Sausage! Enjoy your lunch among the blooming flowers and come prepared with your gardening questions. From spring produce to our favorite Michigan-made products, be sure to check out tons of seasonal samples throughout the store! Don't miss the crew from Mama Mo Hummus who'll have a variety of fresh and healthy flavors for your tasting pleasure! Jorge will be pouring three rosé wines for you to taste. Go Ice Cream will be on hand to cool us down with their fantastic flavors! We'll be passing out samples from our gourmet olive and cheese selections! Refresh yourself with a sample of Roos Roast Cold Brew Coffee! We are so excited to host the crew from Dark Horse Brewing Co.who'll be sampling their amazing Michigan Maple Syrup, Bourbon Barrel Aged Maple Syrup, and THREE of their beers! Snag a slice of Zingerman's Bakehouse baguette topped with our Arugula Pesto, made with Seeley Farm arugula, and get the recipe while you're here!

Don't miss this springtime celebration full of fresh flowers, food and friends!
Get your green thumb on!
Both our State St. and Stadium Blvd.* Garden Centers are rocking!
Visit us this weekend to check out some new items such as:
Crazytunias, Sweetunias, new Dahlias, Succulent Planters, Bracteantha, Datura Innoxia, Fig Trees, Ketchup and Fries Plants, and more!
*Stadium Blvd. Garden Center
2105 W. Stadium Blvd.
(in the parking lot of Arbor Farms)
Click here to see images of the new items listed above!
The Weekly Produce Update
Michigan Grown Produce has started to arrive!
There's nothing quite like the fervent excitement that spreads across The Produce Station staff when the first Michigan-grown produce arrives each spring! After a long winter, we're overjoyed to see Michigan-grown:
Rhubarb, Radishes, Kale, Spinach, Collard Greens, and Mustard Greens!
Straight outta Ann Arbor…Seeley Farm Greens are here to spice up your salad life! We didn't have to travel far to find killer salad greens! Just five miles north of Ann Arbor, Seeley Farm is kicking out certified organic, colorful, delicious, crisp greens that will change up your boring salad game! Right now you can choose from: Spicy Salad Mix, Salad Mix, Baby Kale, and Arugula!
Don't forget to grab a few bunches of
Michigan Asparagus, the season will be over soon!
Join us to sample some pink vino!
Join us during the Spring Gathering this Saturday, June 6th between noon-4pm to taste
THREE rosés
!
2014 Vignobles Sarrail Edition Limitee Rosé d'Ete,
Cite de Carcassone (France)
2014 Gerard Bertrand "Gris Blanc",
Pays D'Oc (France)
2014 Chateau Des Annibals,
Coteaux Varois en Provence (France)
Click
here
to check out the rest of this week's
wine update!
June Specials from The Kitchen!
Soup: Vegan Hempseed Butterbean Chili, available every day on the hot soup bar! - $4.99/pint, $7.99/quart
Salad: Tofu Edamame Rice Bowl - $6.99
Entree: Michigan Lake Trout with Brown Rice and Tomato Compote - $11.99
Side: Asian BBQ Pork Tenderloin & Basmati Rice - $8.99
Sandwich: Chicken Bahn Mi - $6.99
TGIF! It's Free Beer Friday!
Do you LOVE beer?

Join us for FREE BEER FRIDAY!
this Friday from 5 - 6:30 p.m.
at The Produce Station!
Taste two hand selected beers with us!

This week's brews:
New Holland Monkey King Saison Farmhouse Ale
Arcadia Ales Rapunzel Wheat IPA
Our Favorite Recipes of The Week!
Do you love to cook as much as we do?
Here are some of our seasonal recipes handpicked weekly by Carlin St. John from the most reliable sources like Bon Appetit, Saveur, Food & Wine, and more! Look for printed copies of these recipes in the store while you are shopping!

Share your favorite recipe links, and tweaks with Carlin by emailing her at cheese@producestation.com