The Produce Station
Weekly Market Update
Friday April 17, 2015
Michigan Ramps are officially here!
Ramps: spring's finest luxury! These slender, leafy wild onions are the forest's first delicacies of springtime. Ramps were prized by early North American settlers for their bright, garlicky flavor- especially delightful after a bland winter diet! Nowadays, foodies and chefs alike jump at the first sight of ramps to sprinkle into their springtime dishes or for pickling purposes to prolong their short season! These Michigan-grown, early spring ramps have tender leaves the perfectly subtle garlic-onion flavor. Try simply topping an omelet with the slivered leaves! Also try thinly slicing a small bunch of ramps to fold into your next batch of biscuits for a savory flair!
Click here to check out what's good this weekend in PRODUCE!
Wine & Cheese... on the farm!
Please join us and the folks from White Lotus Farms for a wine and cheese tasting on the farm! We'll choose the ideal wines to pair with some of the most delicious and unique goat cheeses, made right in Ann Arbor at White Lotus Farms! We had so much fun with these tastings last summer that we decided to do it all over again! So join us for a bit of early summer fun on the farm!
Join us on
Friday May 15th from 6-8pm
for what will prove to be a splendid tasting. If you are into the farm to table concept I think this is just the gig for you. The tasting will be held at
White Lotus Farms: 7217 West Liberty, Ann Arbor, Michigan 48103.
Tickets will sell fast, so act today!
Purchase your tickets here!
The weekly Craft Beer report!
Do you LOVE beer?
Join us for FREE BEER FRIDAY
this Friday from 5 - 6:30 p.m.
at The Produce Station!

SPECIAL THIS WEEK!
Taste Founder's Brewing
2015 Blushing Monk and SAVE $1 per bottle!
Tulips SCREAM spring!
Pop in this weekend to grab a bunch of fresh cut flowers! OurMixed Bouquets, Cut Branches, Pussy Willow Wreaths and Tulips are especially gorgeous right now!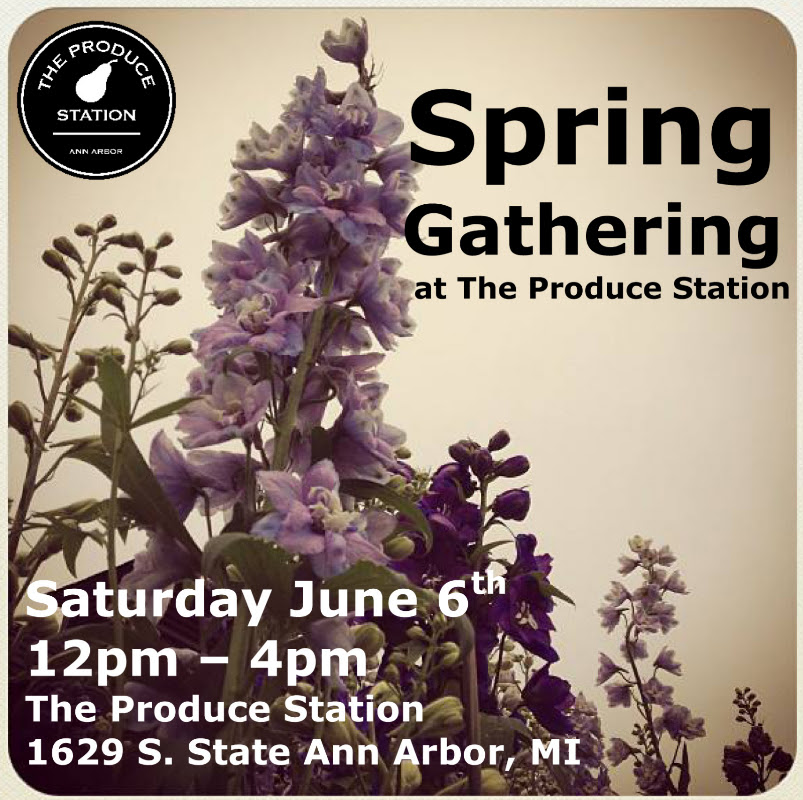 Join us Saturday, June 6th from 12 p.m. – 4 p.m. for our Spring Gathering! We'll kick off BBQ season by firing up the grill and serving our house-made sausages! Enjoy your lunch among the blooming flowers and come prepared with your gardening questions. Our extensive selection ofplants and flowers will be in full effect! From spring produce to our favorite Michigan-made products, be sure to check out tons of seasonal samples throughout the store! Jorge will be pouring three rosé wines for you to taste while you sample olives and fresh spring cheeses! Be sure to try the fresh, Michigan maple syrup from the folks at Dark Horse Brewing Co.!
No tickets required, this event is open the public and is family-friendly! Don't miss this springtime celebration full of fresh flowers, food and friends!
Our Favorite
Recipes of The Week!
Do you love to cook as much as we do?
Here are some of our seasonal recipes handpicked weekly by Carlin St. John from the most reliable sources like Bon Appetit, Saveur, Food & Wine, and more! Look for printed copies of these recipes in the store while you are shopping!

1. Sauteed Fiddlehead Ferns
Share your favorite recipe links, and tweaks with Carlin by emailing her at
Cheese@ProduceStation.com